PARTS / PODZESPOŁY
Podzespoły IBM/Lenovo spisujemy po numerze IBM FRU PN. Numery są zazwyczaj na głównej etykiecie. Pozostałe numery wpisujemy jako Part Option. Podzespoły P Serii mają pojedyncze naklejki (4 cyfry/litery)
48Y2114 / 00D9552 / 81X4485
podzespoły – kombinacja 7 cyfr i liter (00X0000)
5F21 / 5899 / 266D
podzespoły P Series – kombinacja 4 cyfer i liter)
---
ADAPTERY
Adaptery IBM/Lenovo spisujemy po numerze IBM FRU PN, a jeżeli nie występuje to po numerze IBM PN.
Adaptery mogą występować w wersji ze standardowym mocowaniem (śledź) lub w wersji z niskim (Low Profile),
przy czym dopisujemy LP po spacji na końcu P/N.
W przypadku adapterów przeznaczonych do urządzeń IBM Power System (P Seria), główny P/N składa się z 4 cyfr/liter i jest to pojedyncza naklejka. Pozostałe numery jak IBM FRU PN wpisujemy jako Part Option.
Adapter standardowy:

IBM LPE12002 8GB FC DUAL PORT HOST BUS ADAPTER PCI-E LOW PROFILE
P/N: 00JY848
P/O: 00JY808
S/N: 00JY808Y650HY5C3164
Adapter do P Serii:

IBM PCIe2 16GB 2-PORT FIBRE CHANNEL ADAPTER PSERIES POWER8
P/N: 577F
P/O: 00E3496, 00E3495]
S/N: 11S00E3495YL10A0511AE7
---
ZASILACZE
Zasilacze mają P/N na głównej etykiecie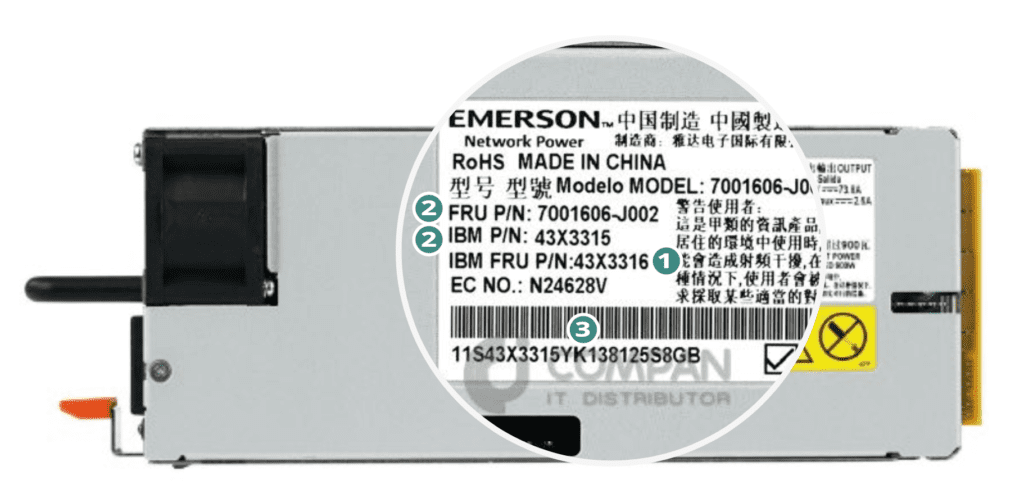 IBM 900W POWER SUPPLY 80 PLUS PLATINUM FOR X3650 M4 X3750 M4
P/N: 43X3315
P/O: 7001606-J002, 43X3316
S/N: 11S43X3315YK138125S8GB
---
PAMIĘCI
Pamięci IBM/Lenovo mają swoją naklejkę naklejoną obok naklejki producenta lub z drugiej strony kości pamięci.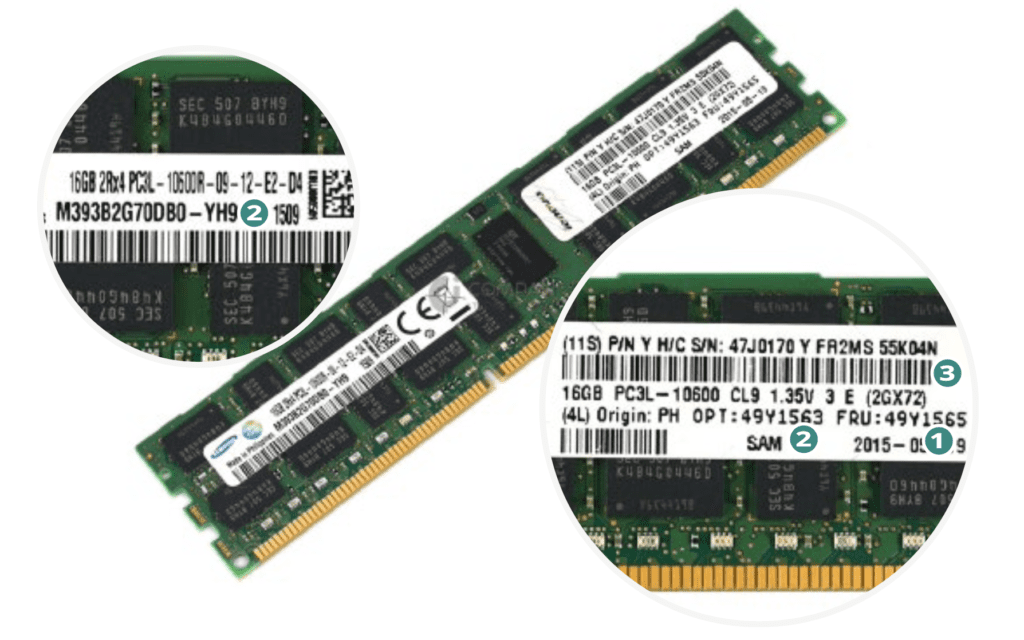 IBM MEMORY 16GB 2Rx4 PC3L 10600R DDR3
P/N: 49Y1565
P/O: 49Y1563, M393B2G70DB0-YH9
S/N: Według kodu kreskowego z naklejki IBM (Używamy skanera kodów)
---
DYSKI
Dyski mają P/N na przodzie ramki, a jeżeli dysk jest bez ramki, główny P/N jest też na naklejce jako IBM FRU PN

M SSD 400GB 6G SATA 2.5 SFF HOT-SWAP FOR 3850 X6
P/N: 00AJ162
P/O: 00AJ165, 00AJ161, 68Y7783, SSDSC2BA400G3I
S/N: 11S68Y7783Y5WV519304CL
---
DEVICES / URZĄDZENIA
Oryginalny P/N znajduje się zazwyczaj na uchu (serwery), jako numer MT lub MTM, lub na przodzie urządzenia Pomimo oryginalnego P/N, urządzenia serii X spisujemy według: MODEL / GENERACJA / ILOŚĆ DYSKÓW
X3850 X5-4SFF / X3650 M5-8SFF / X3950 X6-16SFF
Model / Generacja / Ilość dysków
8202-E4B / 7915-K8G / E880
Numer MT/MTM lub Model
---
SERWERY I URZĄDZENIA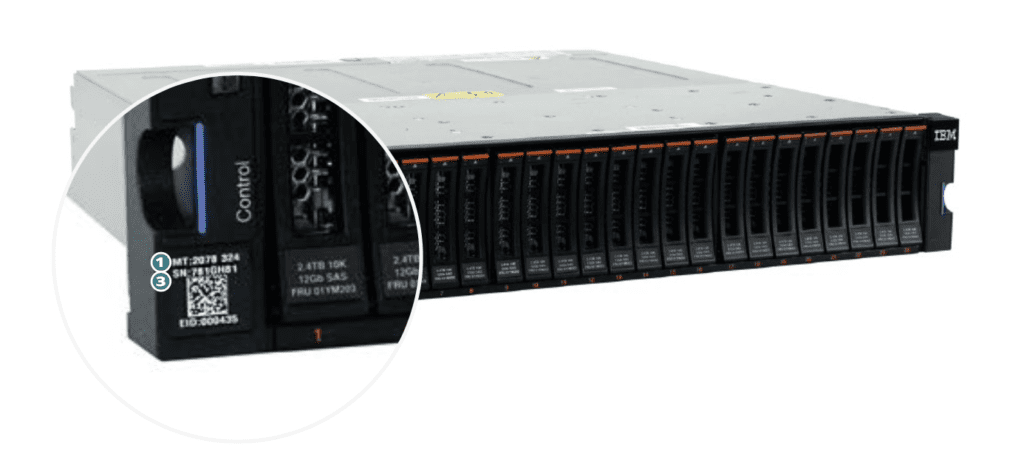 IBM STORWIZE V5030 24-BAY SFF DUAL CONTROL ENCLOSURE
P/N: 2078-324
P/O: Part Option nie występuje w urządzeniach
S/N: 781GH81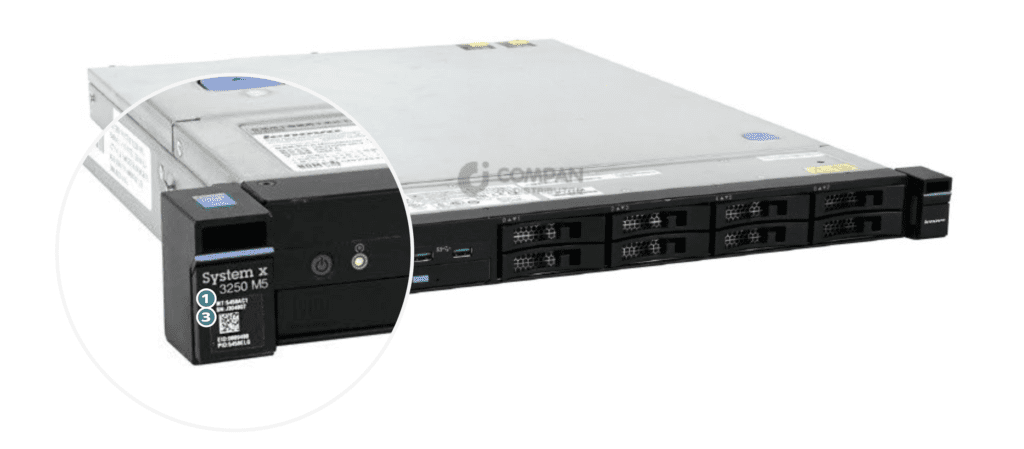 IBM IBM SYSTEM X3250 M5
P/N: X3250 M5-8SFF ( 8 dysków Small Factor Format – 2,5")
P/O: Part Option nie występuje w urządzeniach
S/N: J304807
---
CHARAKTERYSTYKA P/N WEDŁUG PRODUCENTÓW
---